Our machine extraction systems are designed for applications using automatic equipment requiring little or no interaction with an operator.
3D printer, laser marker, electroplatin, pickling and jewelry processe, spin-coating, separo, chromatography, etc.
These relatively autonomous machines find their place in the middle of our workshops and laboratories and seem to work in harmony with the other operators. This equipment is however proven sources of pollution: dust or microparticles, VOCs, dangerous chemical agents, each one carries its share of dangerous substances. To get rid of it, there are several solutions that we offer here: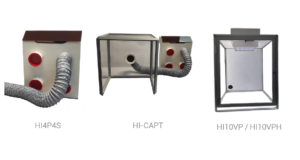 Our HI4P4S multi-station hood. Designed for machines with exhaust vents. Pollutants are collected as far as the crankcase outlet via these vents. It is then necessary to connect these devices to the extraction hood then to an external discharge or to an internal filtration system.
 Our HI-CAPT capture enclosure. It is ideal for small equipment that does not have an exhaust vent. The capture enclosure covers the device and evacuates polluted air. Its cubic dimensions of 450mm edge can satisfy small machines.
 Our HI10VP and HI10VPH machine safety enclosures. These machine safety enclosures confine the air and pollutants emitted. An air inlet on the front face and an extraction box on the upper part allow total recovery of pollutants. These enclosures are ideal for larger equipment and in particular 3D printers. Glazed and elegant, they provide undeniable safety while integrating perfectly into the work environment.
Do not hesitate to contact us for any additional information or advice.
…
Display 15 Products per page